Our simplified trucking management mobile App allows you to track your freight location with Just a few clicks.
Try TruckLogics for Today!
Start Your Free Trial
Real Time Freight Tracking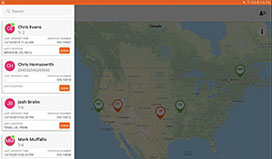 Fleet owners can now track their real time freight location as well the history of the location easily with TruckLogics mobile App. Freight location is tracked by the drivers GPS enabled mobile device.
Fleet owners can view the freight tracking option in dashboard. The fleet owners can find the markers with drivers current & last location. When tapping on the particular marker, it will show the driver's information like name, location, last updated time.
Track your Active Dispatch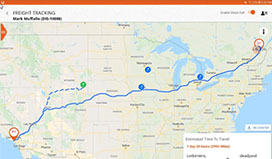 In the same window, user can find the assigned & active dispatch as a list.
While clicking on the active dispatch, Fleet owners can view freight location (For ex: shipper & consignee location) and the check call activity details like activity location, activity time, and the activity updated by user.
Conditions to Track your freight with TruckLogics Mobile App
Fleet owners can track only on the active dispatch (only on running condition). If dispatch has delivered, user can't track their driver.
The driver should enable the GPS location to use this feature. TruckLogics App should be opened or in minimized condition in the driver's mobile.
Our Software makes your job easier. Start our 15-day free trial now and see how simple it is to track your freight.
Start Your Free Trial