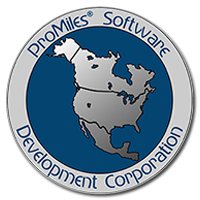 ProMiles is the program every transportation professional needs! Unlike other GPS programs, ProMiles only selects routes appropriate for heavy vehicles, eliminating costly backtracking, detours, and out-of-route mileage. It plans your whole trip for you, down to every last mile.
When you sign up for TruckLogics preferred or premium package, you'll gain unlimited access to ProMiles.
With ProMiles, you'll be able to get precise directions, give more accurate quotes to your clients, estimate the mileage and cost for a trip, and spend less time turning around due to road restrictions, low-overpasses, bridges, or detours.
SIGN UP FOR A FREE TRIAL
Key Features of
ProMiles Integration
IFTA Reporting with ProMiles

The TruckLogics IFTA filing process has been integrated with ProMiles for accurate tracking of your mileage.
State Mileage and Taxes
Quarterly Reports
Truck-Specific Reports
Trip Sheet

Since TruckLogics is integrated with ProMiles, trip sheets can be completed almost instantly. And with just a single click, users can import trip details into a completed trip sheet faster and more precisely than ever before.
Route Planning

TruckLogics finds you the best route for your trip using Google Maps. The program will show you how long you'll be on each route based on your starting and ending point.
Fuel Optimization

Every trucker's goal is to save more money with fuel optimization. At any given point along the route, you need to know the price of fuel, the amount you have in your tank, and the best place to purchase fuel. This can sometimes mean purchasing a minimum amount of fuel at one stop in order to have enough fuel available to make it to a better stop further along the route.
Enjoy our 15-Day FREE Trial on the go…
Organize your entire trucking business in one place. Organize & track everything from your Dispatches & Trip Logs, to your Expenses & Invoices from any computer or mobile device.
See our
Plans & Pricing
We offer affordable pricing solutions, starting at just $7.95 / month and we assure there is no better value in the industry.