Shipper/Consignee Details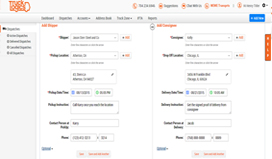 Choose a default pick-up and drop-off location for each client to save time creating loads. You can also add a custom pick-up or drop-off location if needed. TruckLogics also allows you to enter specific instructions for the driver, or contact information for the pick-up and drop-off points.
Assign Driver & Equipment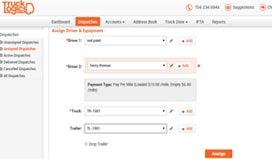 For each dispatch, you have the ability to select up to two drivers, if applicable. Teams are the preferred method of those who wish to have their product delivered fast. You can also select and add the equipment you want to assign to each load to make keeping track of maintenance schedules a snap.
Check Call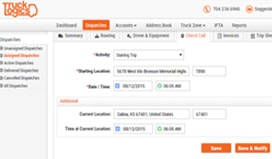 Notify your clients of your progress & location. You can also capture and send BOL and proof of delivery, making your daily check-in easier.
Promiles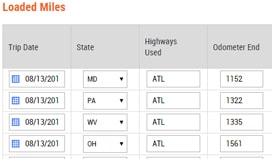 ProMiles provides accurate address-to-address routing for trucks. This allows you to accurately estimate costs when creating an load.
Load Charges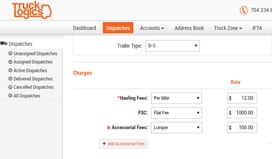 Calculate your hauling fees (per mile, per ton, manually, etc.), fuel surcharge, and accessorial fees for lumper, stop off, tarp, or custom charges.
With the Address Book & Truck Zone integrated into the Dispatching feature, sending a dispatch is a fast, effortless process with most fields being auto-filled for you. TruckLogics eliminates time-wasting data entry and gets the job done quicker.
- ADDITIONAL RESOURCE: READ MORE ABOUT THE TRUCKLOGICS MOBILE APP
Watch Trucklogics video:

Dispatch Tracking